Miss Pencil is one of a kind. After we met, I'm not so sure I will see her again but I thought of her a lot, more by the day. But it's not lust, addiction that sort of thing. I am just more doubting and flip-flopping.
Finally I decided a few days after seeing her. I'm not crazy about her but I want not to think about her too much and doubt too much. So I sent her this and ask if she would wear this. For many reasons, few would, and not usually for new clients.
When I sent her a "thank you" message after our first meet, she was very warm and enthusiastic, replying with lots of emotion-cons. I didn't get a reply.
So I waited enough to show that I don't care that much about the costume or about seeing her, and pressed for an answer. It turned out that she was worrying about doing outcall, rather than the costume. There's nothing much I can do about not doing incall. But for the costume, I made sure that she can't find excuses and just duck out of it when we met again. After I gave her some compliments, she said, "It's cute and I like it." But still I don't trust her that much because there's no emotion-cons, no exclamation marks.
Of course I didn't get a new one that would be a risky investment. I brought out my own collection (for Mrs Player that is). Sadly, it's rarely used. I put the geninue outfit in the washing machine by itself to give it a good wash, packed it with some butcher paper (!), and put it in a 6th Avenue type of shopping bag to make it look sort of like new so she won't hesitate to wear without thinking about how may people wear that before and how many stains were on it and then removed.
Remember that how I was thinking to ask her to wear a mask? I got it. Actually the big bow tie on the chest can be used for blindfolding while she can still see through. My excuse will be not allowing her to see what I'm doing on her, that it's part of the investigation of going out with a lot of boys and took all their money, or just that I'm shy. Unfortunately I forget to bring that piece. But it wouldn't work anyway. We really need a nylon legging over her head so as not to come off with our intense fuck.
I have been preparing for the day since I booked her. Deep cleaning, deep moisturizer, cut nails, trimmed hair & bush, frequent brushing and chewing gums. It's not like I'm going to impress a high-class hooker and turn her into a girlfriend. For somebody that is possibly afraid of germs, all little things help. I have girls asking me about a patch of bad skin, about a tape. Some girls prefer bald balls but some are scared as if you are on chemo.
The problem is, Mrs Player found me too irresistible. The night before she kicked me. It was a once in a blue moon bat signal. "Oh no, " I told myself. If it were Chanel I always find some excuses to continue sleeping, even though they are hardly convincing. But even that Mrs Player is pretty hot. I always saved my load for Chanel because I paid for it. Mrs Player can kick me some other time.
May be Mrs Player put two and two together, knowing that I have the chance to go out of town. She wanted to ruin my plans as part of her nature. Not only that she wanted sex, she wanted hot sex. I told myself, "I can handle this." (Even if I'm going to give Ms Pencil a good fuck for my money. ) As usual I had to force myself on her until she gave up resisting. This time she wanted to be a cowgirl. It didn't happen too often so I turned on and dimmed the light.
After her orgasm she became a corpse as usual. I pulled her legs dragged her to the side of the bed. I stood at the edge of the bed and penetrated in the middle of her legs. I bent her knees, pulled her legs straight up, kissed her feet, bend her legs down, and all sorts of things while I was fucking her intensely, harder by the stroke. After I came buckets I made sure that my cum stay in the towel without dripping down the carpet that I have to clean afterwards. I rolled her over away from my space and went to sleep.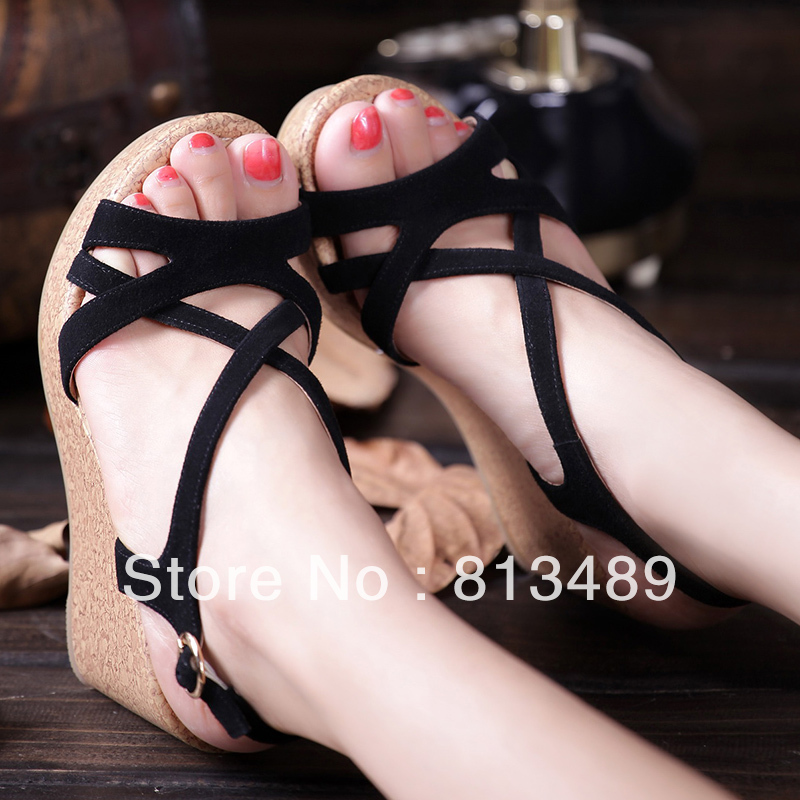 Before I left home the next day I brought a pair of sexy shoes from the closet. It was not in a prominent place so it's disappearance won't be noticed for a while. It's a pair of streamlined high "heel" wedge platform. It's small and lightweight to go with the uniform. It's not typical for the costume but I like some 4" of heels that alters the look of the legs, whole body posture and the way of moving around. The view from above has to be having as minimum obstruction as possible. The pair is black, which goes well with the costume.
Having something wrong with some of my cards and with some pins, I ended up at a bank at 9 am asking for cash. When it was my turn a sexy teller opened a new window just to serve me. Do you believe it's an coincidence? If you believe 3 is a pattern I have to tell you that for some reasons bankers are very much into me :-)) (But so are teachers.)
Just happened that this teller is very small that could easily fit into the uniform I have. To make her taller she is wearing a 4" high heel with thicker, stronger lines suitable for work. She was wearing a suit with a skirt just long enough for work. I saw her walking around on her high heels when she turned up for work. When she checked my ID I was thinking she was trying hard to suppress her surprise and disappointment. Then I remembered that a teenage checker in a local hardware store couldn't suppress it because her colleague laughed behind her back. The surprise and disappointment turned into shame and anger.
Miss Pencil was waiting for me in the motel room. The coldness on her messages was gone. It was as if someone was replying the messages for her sometimes. We even had a hug, during which I squeezed her bottom.
Apparently she put some effort into her appearance than last time. She worked on her eye lashes a bit and may be more makeup. I didn't try to see if that make a difference. LOL. I can't say she's ugly or scary. She is a case of her facial features don't grow on you. Indeed I can't say what features she has and I'm not keen to find out.
She has a very small hot pant on, but a kneel length boot. Oh yes, here it's like summer and didn't rain for a long time. I don't know if she wants her outfit to be sexier than the costume so she doesn't have to wear it, or she just want to show me that she can be very sexy, sexier than last time we met. But I hate boots, the longer the worse it is.
I handed over the shopping bag. She took out at the skirt and said immediately it's too big. I thought it maybe her excuse but I just told her to wear what's fit and then turned around, waiting her to finish changing.
When she told me she was ready, I turned around to be surprised that it fits well. she's twenty something at least but skinner than many school girls. She is actually stretched a bit like, well, a barbie doll, but just not a designer's face.
What she said about the skirt being not fit means the skirt was too long. It was too long for costumes but it was authentic. Girls don't go to school covering half their asses, do they? Obviously she likes it, saw the good quality of the material, and asked me where did I get it.
Not only that she fits the costume like her own, both top and bottom, but she was wearing the pair of wedge I brought. She told me they fits but I don't believe her. I went down on her to check, only to find that they fits her feet like the Cinderella story.
Before I arrived I had a lot of mental exercises to prepare for it. "Form toe to hair", I told myself many times. In the past few good encounters, I lost my mind a bit and went up and down. I did things repeatedly without depth. This time I should went back to basics, so basic do I won't forget even if I lost my mind.
I lifted her up to sit on the bathroom counter top. I brought a chair for her feet to rest on so I don't need to hold both of them all the time. She has deformed toes due to wearing too much pointed shoes, like the majority of women on earth. So I didn't went crazy after taking off her shoes. I didn't suck her toes but kissed and maybe licked from feet up, both of them.
When I got to her skirt I made her stand up. From up skirt I saw that she was wearing a nice lingerie, deep bluish with white floral patterns. It complemented the sailor costume quite nicely but would be too sexy for the real thing.
Her bottom piece was tiny but I turned it into a throng and munched away. My pants was too tight then so I took it off to release the pressure. Until I was naked with my cock dangling.
Sticking to the toe to hair scheme, I took off her skirt and panties and sat her on the bathroom counter top, legs spreading. I took a good lick at her pussy. It seemed that I had a good connection with her. I don't usually go down on pussy that much. Going down on her seems to be like breast feeding, going on and on with warm and fuzzy feeling.
With her still sitting high, naked down there, leggings spreading wide around me, I felt her breasts on top of her uniform then reached under her top to get to them. I lifted her top to take a good look at her bra. I complimented her, for the effort. I took them off carefully with her help, trying not to ruin could be one of her best lingerie.
When I saw her nipples I couldn't control myself but went ahead for some intense licking. They didn't look as perfect as last time but I had to suck them out and bite them off while she was holding her top for me. In reality all I can do was intense licking with some lip sucking, anything else would hurt.
Now mission almost accomplished so I relaxed and let her continue when I sat on the side of the bed with my cock sticking out. She came over, knelt down and started stroking my cock carefully and skillfully. All the while she was looking at my cock in front of her face intensely like she has an oral fixation. It wasn't expected as I didn't think she would like it and skipped the CBJ last time.
With the stroking, I was fully erect. I thought she was going to swallow my bare cock with all of her mouth but she put on the condom. Still kneeling down, she sucked away. It was better than I imagined. Her long hair is split in front of her face and with her going back and forth, I couldn't see much of her face but only sexiness.
She took her time enjoying my cock and then rose from the kneeling position to ride me. I kept sitting up and tried to force her to sit on me and to fuck me face to face sitting. The penetration was good and it was warm and cuddly. But it wouldn't work. So I laid down and let her do her cowgirl. She increased the pace, depth and strength gradually and I was enjoying it. Then she started the intense rhythm and tried to finish me. To finish on top one position will be the squat with very deep penetration. She wasn't doing that. She was trying to use squeeze suction, fast and furious.
I wouldn't let her finish that, though it could be fun. I got up at last. I let her sit down at the very edge of the bed. Then I penetrated her while standing, she balancing herself with the help of her hands. Her pussy was then between a stone hard beam and a hard cock. Then I pounded her, increasing the thrust to become a foundation building mega machine at the end. She wasn't afraid of a tough missionary after all.
Before the finish I let her do her best. I pulled out and with my index finger made a circle like a magic wand, she turned over on her hands and knees, with butt hanging over the side of the bed. I hold her pelvis as tight as I could and banged on her. Last time I knew she could take some punch like this and this time there was no mercy.
After the firework I would love to stay inside a bit more, warm and cozy. But it wasn't comfortable with me standing straight and her butt in the air. I pulled out carefully with the condom, pushed her away a little and collapsed in her place.
She went for the shower. This time I made sure that she didn't want me in. She really want to get a good wash without me getting in the way.
The way she acts remind me of an ancient BBC drama. The NHS is in disarray and all the nurses find it hard to survive on their salary and all had to find 2nd jobs. The nurse is a long timer but still somewhat attractive. An old man came to her house for after hospital therapy with referral. There was a roll of butcher paper on the head side of the bed, 3 ft wide or half of that. She pulled on the roll so there is a sheet of paper covering the length of the bed. Then the old man lied down on top of the paper. Then it was insinuated that the "therapy" is actually a hand job or blow.
I think I remembered that in some situations like a frequently used check-up room, you do have paper rolls like that when you have to sit or lie down naked or not. Otherwise, the BBC drama would be quite original.
Ms Pencil is an uncommon case. There are a lot of girls you simply won't want to see again. Others you want to marry them but then there are too many of them for the money you have. Every time after the firework I doubt if I would see Ms Pencil again. Even though her face appearance didn't grow on me like most others did, I kept thinking of her. Now, I have a whole closet, and them some, of shoes that fits her ...... The one above is some 30 dollars but most of the others are priced above Chanel, the label, and even the most expensive pairs that Chanel, the escort, wore, are a league below.